Understanding The Top 3 Franchise Models And Which Is Most Suited For Your Business Expansion
Chiagozie Nwizu
Chiagozie is the Founder and Managing Consultant of Franchise Business…
As you become familiar with the concept of franchising, it is essential to understand the models of franchising. According to the 2016 DFID Franchise Study conducted by FBDS, franchising models are widely categorized into three namely;
Manufacturing franchise;
Product format franchise and;
Business format franchise.
Although, some businesses have been actively involved in different models of franchising, this distinction is necessary because various businesses operate varying forms of franchising without even knowing it. Their business processes also tend to suffer because they are not able to distinguish which is most suited for their type of business. This situation involving lack of education or awareness has badly undermined the potentials of franchising in Nigeria. This has driven Franchise Business Development Services (FBDS) to be at the forefront of this education and awareness campaign. We bring you another little bite of analysis of three most popular models of franchising;
MANUFACTURING FRANCHISING
Easily put, a manufacturing franchise is a franchising agreement where the franchisor allows a manufacturer to produce and sell products using its name and trademark. That is, the franchisee aside manufacturing the products in line with provided guidelines and recipe, is allowed to make use of the tradename to sell same products within the assigned territory. A very good example of the use of this model is the Coca-Cola Franchise in Nigeria. While this model is largely for medium to big business scale investments with globally established brands, one of its challenges is that it is mostly off-the-hand for our micro and small scale investors dominating the Nigeria investment landscape.
COCA COLA
The parent company Coca-Cola sold the right to use their brand name and trademarks, to the Nigerian bottling company, one of the world's largest bottlers of products by the Coca‑Cola Company. The company takes care of mixing and bottling the finished product before selling it on to various suppliers. The advantage gained in this model is the exclusive territory that limits the number of branded competitors.
PRODUCT FORMAT FRANCHISING
In this model, franchisors allow their franchisee to distribute their products and to use their names and trademarks. Usually, for a start the franchisees have to pay some sort of fees or buy a minimum amount of product from the franchisor. In Nigeria, this model is largely identified as "Distributorships or Dealerships" . Having met the basic requirements of this model, the franchisee is allowed the littlest benefit of branding their outlet to make a good leverage of the brand popularity to attract brand loyalists. Asides the lowest entry barrier, a common challenge with this model is that the limited capacity, and unchecked enterprise management styles of the franchisees still get in the way, making such businesses record a failure rate nearly as high as other startups.
DANGOTE CEMENT
Dangote cement is the largest producer of cement operating in about 16 African countries operating using the product format franchising model. They are able to distribute their products to smaller groups of franchisees to reach the final end users and help cut cost on logistics. This Model also comes with great benefits for franchisees as they get more control of their day to day business operations.
BUSINESS FORMAT FRANCHISING
This is a very popular means of franchising and it combines the other two franchise models, however at varied scales. This allows the franchisee not only to use the franchisor's tradename and distribute products and services but also implement the franchisor's format and means of operating business.There is also support by the franchisor through the planning, set-up and growth of the business. The Business Format Franchise is usually adopted by businesses that are somewhat service oriented. Such businesses ensure that their product and service standards are kept intact while scaling and replicating the business. They can also decide to technologically automate the entire business operations to make it fail and fool proof.
CHICKEN REPUBLIC
Chicken Republic is quick service restaurant with over 65 stores within Nigeria and Ghana. They operate the Business format franchise model. They support the franchisees through business planning, finding a location, staff recruitment and training, outlet fit-out and all the way to supporting with research and development and marketing. These support are provided to only franchisees who are agreed to operating the business and an owner-operator, and to be committed to the provided standards and guidelines.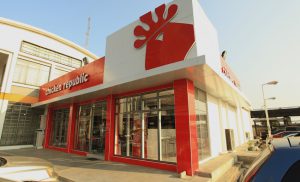 Out of the three, the business format model is the most popular in modern day franchising and has proven to be the most successful. It is also the best format for franchisors who want to maintain the quality and standard of business operations.
Sources:
FID 2016 Nigeria Franchise Study: Tackling Access to Finance: The Potential of Franchising in Nigeria.