The Benefits of Standard Operating Procedures
Emmanuel Otori
Emmanuel is a Small Business Consultant, Start-Up Advisor and Consultant…
"Organizations cannot experience sustained growth until they develop a set of standards to guide their operations". Standard Operating Procedure (SOP) is a detailed and systemized instruction that is expressed in a step-by-step sequence on how the roles of employees should be carried out. A standard operating procedure is usually created by the employer in order to create a company culture that transcends individual differences in carrying out activities related to business and office management.
The Need For A Standard Operating Procedure?
A standard operating procedure ensures that a business can be successful since it operates with precision, accuracy and uniformity while working across different stakeholder segments of the business.
When regulatory agencies visit an organization and realize there is a standard operating procedure at work, it sends a positive image of control and proper management of activities.
It serves as the foundation of a good quality management system, such that an organization can become responsive when an error occurs, therefore making the ability to get back on track feasible.
Most small businesses are run in an informal manner regardless of the number of years or the number of resources invested in them. The desire of most organizations is to become №1 in their industry and grow their businesses through the ranks from a brick and mortar business to a medium sized organization or conglomerate. However, it should be considered that only systems make organizations to serve the different the kind of people that come into it, and this is not to resent individuals with great talent who make immense contribution to delivering value in these organizations but that the organization takes the discipline to put a system in place and refine it as they grow. A standard operating system compels team members to share in this generally accepted standard that the organization is trying to put in place. A number of processes are examined to fine tune what is expected in an ideal organization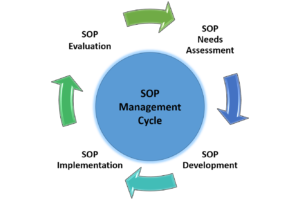 Areas Standard Operating Procedures Are Applied
Cloud Storage of Electronic Documents
While different organizations have procedures for saving electronic documents. An easy to use general procedure is to create a folder that holds electronic documents for a month, this monthly folder is then embedded with weekly folders to save activities done for the week and the weekly folder has daily folders to save activities done for the day. Each folder will contain a set of specific documents, images or visuals saved with the name of the document or client's name and date. This allows for easy referencing. The folder is then uploaded to the cloud or saved in a hard disk.
Receiving and Answering Calls
Imagine an organization where there is no procedure for answering and receiving calls, without initiative on the part of the handler of the device, it appears to anyone like a chit chat which from a distance can be observed by the person at the other end. A recommendation that provides flexibility is as follows
Good afternoon Sir/Ma,
I am XYZ, the customer center head
How may I help you?
The outline here for calls is to accord the client or prospect with the level of respect regardless of their age and only call them by their name if they only ask to be called by their nomenclature. While all the information that is being requested by a customer may not be available at hand while the call is ongoing, it is important to let them know that you would return the call when you gathered further information, in order to prevent informing the customer wrongly and misrepresenting the organization.
Choosing a font style and size in every document
An organization has to be seen as one with whoever it is having business dealings with and one way to show uniformity is in the preparation of documents that are either for use within the organization or one to be sent out
Font Size: Georgia
Font size: 12
Line spacing: Double line spacing
Document format
Some documents are sent out in an editable format and because these can easily get exposed to viruses, might make the client go through the stress of getting to open the said file. A PDF (Portable Digital Format) document is what is recommended as it doesn't lose its authenticity from whichever platform it is sent online.
These sets of operating procedures as simple as they are can save an organization from acting randomly and bring about cohesion and a sense of accountability in following such principles.
Procurement
For an organization to make procurements especially private organizations, it is necessary that the store manager communicates a depletion in the specific item by sending a notification through the procurement officer to the manager, the manager then passes same to the accounts officer to verify the duration for the depletion of the item is as specified before requesting for a list of eligible vendors to generate an invoice for the items requested. Funds will be transferred to the vendor and upon confirmation by the vendor; the item is released with a receipt as evidence of payment. The procurement manager then upon delivery ascertains that the item requested is exactly what was purchased; he then sends it to the stock through the store keeper who enters this as a new stock.
An organization depending on the culture they intend to build can create procedures that work in order to ensure accuracy and avoid duplicity of procedures initiated without authorization from the management.
Read Also: Guidelines to Developing a Standard Operating Procedures Manual